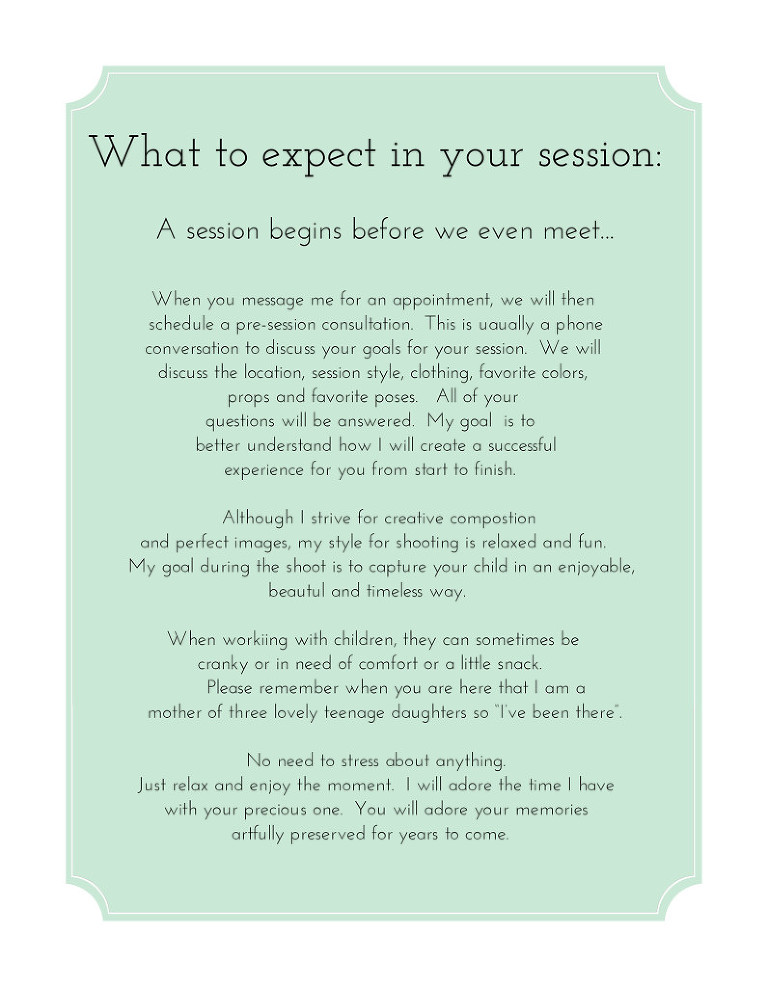 A consultation prior to the photo session allows me to answer your questions about location, wardrobe, and to become acquainted with you.    The session fee covers the cost of this consultation.
After your custom photo session, we will schedule your ordering session.   This is an appointment for you to view the best images from the session,  view samples of products to display your images as original works of art in your home, and make your selections.     I will guide you through the selection process and answer all of your questions.
I offer many custom products, including fine art canvas wraps, photographic prints,  coffee table art books, albums, custom photo graduation announcements and holiday cards.   I also offer digital images for sharing on social media sites and personal use.   It is recommended that you let me print your images in the manner you wish.  In order to maintain our exceptional level of quality, I do not recommended printing your digital images at commercial print labs.  We keep our print pricing very reasonable to insure that you receive the best professional image quality AND value.
Your custom products will be delivered to you usually within 2-3 weeks following the ordering session.
Greenville, South Carolina Child Photographer
Lori Madeline Photography is known for her natural, joyful and soul seeking photography with children of all ages.  As the mother of 3 teenage daughters herself, Lori has the skills, patience, and ability to connect with your children on a level that will result in gorgeous images.   As a Greenville South Carolina Child Photographer, Lori works in her modern, natural light studio and outdoors in many beautiful and varied locations – ranging from urban areas to the beautiful rural areas featuring ponds, fields, old barns, bridges and pristine mountaintop views Greenville has to offer.  Lori is a master at crafting well lit, dramatic, and rich portraits of children.  Greenville, South Carolina child photography has never been so beautiful and vibrant!  Lori will capture images of your child laughing as well as serious, deep and soul seeking images. Lori has the skill to pull natural laughs and smiles out of your child as well as the patience to get those deep serious looks that parents love.  Lori is available to photograph your child all over the Upstate, and is available for travel as well.
Your child's portraits can be printed on a beautiful, large canvas to grace your family room wall, or placed in classic, album to share with friends and family.   Lori also offers a variety of desk and wall print sizes to frame in your home and send to the grandparents.  You will be extremely satisfied using Lori Madeline as your Greenville, South Carolina Child Photographer.